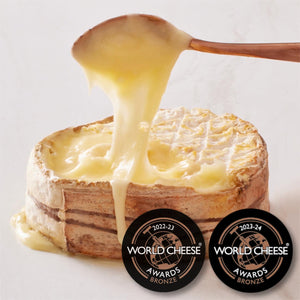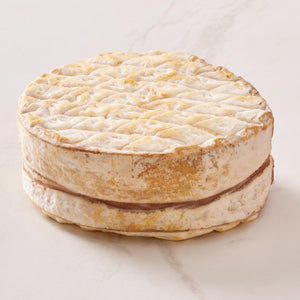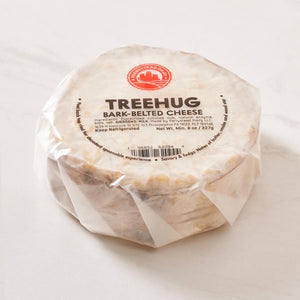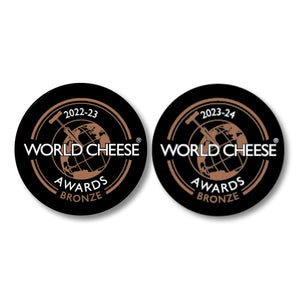 BRONZE at the World Cheese Awards 2023-2024 in Norway
BRONZE at the World Cheese Awards 2022-2023 in Wales
Pre-order ships Nov 5th.
Treehug is pure fudgy goodness and our top cold season special, sold only November-May.
This cheese is wrapped in traditional spruce bark, a centuries-old practice in the world of cold-season cheese making. Its exceptional texture and rich, flavorful character are forged through the natural abundance of lipids and proteins found in winter milk, an extended cold aging process, and meticulous rind washing.
The bark's aroma is reminiscent of mushrooms on the forest floor after a rain. Beneath the rind, there is a spoonable savory interior that's fudgy and buttery, with complex notes of wood sap and smoked meat
Serve this centerpiece at room temperature and dig in from the top rind while keeping the bark strap in place to hold it together. It's also fantastic baked. Instructions found here. 

The rinds of all our cheeses are edible but the tree bark is not.

Treehug is sold in entire wheels, 8oz / 227g min.
Ingredients: Pasteurized cultured whole milk, natural enzyme (French calf rennet), salt, spruce bark. Allergens: Milk

In-Person pick up: Select at checkout, free of charge. You will receive a Ready for Pickup email when your order is ready. Please allow 2-3 business days. Pickup at the creamery, on 152 Cecil B Moore Ave. Philadelphia PA 19122 during business hours. Enter from the garden.
Shipping: Orders ship within 2-3 business days with UPS. Feasable options are automatically offered at checkout based on perishable transit times to your shipping location. Save more: Adding more cheese will decrease the cost of shipping per cheese.