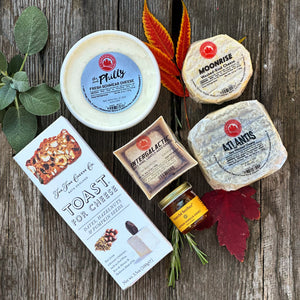 *** THIS BOX EVENT IS NOW OVER. PUR CURRENT EVENT IS THE MERRY & HAPPY HOLIDAY BOX FOR 2023 HOLIDAYS /  CHRISTMAS / NEW YEAR CHEESE BOX ***
---
This is a Thanksgiving pre-order box. Shipping begins Nov 14. Pickup begins Nov 20th.
GIVE THANKS!
It's that time of year again, fall is in the air, golden leaves, pumpkins on stoops, and the Thanksgiving menu creeps into mind. Whether you are hosting, being hosted, or want to send a box of love from afar, we've got you covered with a stellar box for this season!

In the spirit of the holiday, we want to thank our hard-working local family farms who take such good care of their animals and or so much into care for animal and the land. Their Northeast cows welcome fall, devouring as much green grass as possible while enjoying the temperate outdoors before winter sets in. The resulting milk is so abundant with protein, golden cream, and flavor compounds, that we must adjust cheesemaking on this time of the year. It's easy to turn gorgeous milk from carefree cows into award-winning cheese. Just let it tell its story!

What's in the Box?
A collection of our international award winners...plus extras!
Real Philly Schmear:

 

Our tangy, fluffy, and creamy spreadable cheese

|

8oz tub

Intergalactic:

 

Our signature soft-ripened cheese, 

coagulated with Iberian cardoon thistle. 

Zesty. Notes of olives.

 

|

 

E

ntire cheese in a wooden box 3.5 oz

Moonrise:

 

Fun, approachable, pocket-sized washed-rind cheese. Lusciously silky creamline. Notes of roasted peanuts.

 

| entire wheel, 4.5 oz

Atlantis:

 Last of this year's limited semi-soft cheese, washed in Atlantic seawater, speckled local Atlantic seaweed varieties. Umami 

| Entire wheel, 8oz 

Toast for Cheese: The Perfect crisps! Hazelnuts & Pumpkin Seeds. From our friends at The Fine Cheese Co. in the UK | 3.5 oz
Saffron Honey: Stunning decadent NY honey infused with generous Moroccan saffron. from our friends at Marché Berber | 2 oz
Serves 8-12 people as an appetizer or a post-dinner cheese course. 
Pickup: This is a Thanksgiving pre-order. Pickup orders placed by Sun, Nov 19 will be available for pick up on Mon, Nov 20 (12pm-6pm) and Tue, Nov 21st (10am and 6pm). Pickup is at the creamery, located at 152 Cecil B Moore Ave. Philadelphia PA 19122 Please enter from the garden.
Shipping: This is a Thanksgiving pre-order. UPS shipping options at checkout are offered based on your location. Orders placed by Tue, Nov 14 will ship by Wed, Nov 15th. Orders placed by Sun, Nov 19 will ship by Mon, Nov 20.
Disclaimer: In the rare event of product shortages, we reserve the right to replace items with similar or higher-value items.